Manufactured Home Delivery: A very important phase in the construction of your new home is the planning and execution of the home delivery. Frequently, the details of the home delivery can be over looked. Peterson Home Center, with the support of experienced contractors has delivered homes to many challenging locations. Following are a few of the details to consider when planning your home delivery.
Wind: When traveling down the highway, manufactured homes are susceptible to wind gusts. A strong side wind can over turn the home. This is an extreme safety hazard. Weather forecasts can help predict windy days and help with home delivery schedules. Frequently, permits for hauling homes are suspended on days with high wind gusts. (Thankfully this photo is not from one of our homes.)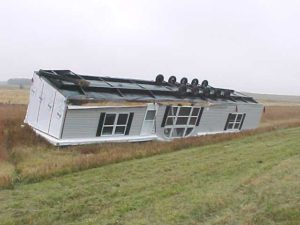 Narrow Roads: Delivery down "The Country Road" can often lead to some tight situations. Take time before the delivery to measure road widths. Can the home and vehicle delivering the home navigate corners, low spots, high spots and low hanging objects? Train trestles can present a problem. Alternate routes are often necessary. Low hanging tree branches can damage the home. Clear debris before the day of delivery.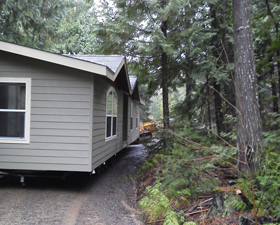 Rain and Snow=MUD: On a dry sunny day, your delivery road may look like a freshly paved highway. Add a little snow or rain and the whole picture changes. Dirt shoulders that may have supported a few tires now become sink holes of mud. Gentle uphill slopes become muddy "beaver slides." When delivering in questionable weather, have a contingency plan AND budget built in. Peterson Home Center recently ran into the perfect rain storm on the day of delivery. Thankfully we had our contingency in place. A dozer and logging skidder saved the day and delivered the home.
Paved Neighborhoods: It can be tricky delivering into an existing neighborhood with paved streets, curbs and sidewalks. You'll need to protect existing infrastructure while delivering into your construction site. Peterson Home Center recently delivered a home into Sundance Meadows Community. The streets were paved but the work site was muddy. Coordinating with the truck driver and dozer operator created a smooth solution. The hitch of each home was placed just inside the dirt, while keeping the trucks on pavement. The dozer attached to the hitch and placed each home section. The delivery trucks would have sunk to their axles in mud. We prepared by having a dozer on site.
Tight Home Construction Site: Placement of the home into tight quarters can require special equipment. Frequently the skill and experience of our crew amazes me. This remote controlled dozer is a very helpful tool. We were able to place two single section homes side by side into a very tight corner of the property.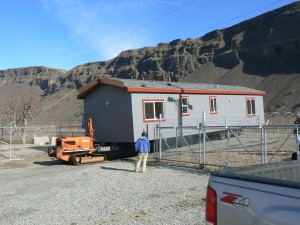 Before purchasing your new home, call us at Peterson Home Center.
We manage the delivery details for our customers.
Corey Peterson
"Building Relationships, Building Homes!" 
Peterson Home Center
Your home in the Country!
509-276-7127 (ph)
518 S. Fir Avenue, Deer Park, WA 99006
www.PetersonHomeCenter.com